BWSR recently received state funding to develop a new Lawns to Legumes grant program focused on planting residential lawns with native vegetation and pollinator friendly forbs and legumes to protect a diversity of pollinators. 
The funding appropriation is through the Environment and Natural Resources Trust Fund (ENRTF). BWSR will be working with the ENRTF as well as other stakeholders and partners to develop program criteria this summer.  Current plans are to have funding be distributed to local conservation partners later in 2019 so they can distribute funding to individual landowners, leading to the implementation of projects in the spring and summer of 2020. Funding will be targeted in priority areas for benefitting the Rusty Patched Bumblebee and other at-risk species. Please continue checking this webpage for additional updates about the program. 
New DIY Resources:
Our DIY resources: Planting for Pollinators habitat guide, planting templates and other helpful fact sheets are now available.
Find them on the Creating Residential Pollinator Habitat link above.
Sample "Pollinator and Perennial Garden Landscaping Permit"
Many cities have lawn or vegetation maintenance ordinances that limit the height of vegetation or prohibit "weeds" in general terms. Some cities have established a permit process that allows planting of pollinator, perennial or other natural vegetation on residential lots. BWSR has developed a sample permit for cities that wish to allow such plantings. Note that additional changes to municipal ordinances may be needed to allow pollinator plantings. The city attorney should be consulted when drafting any ordinance amendments.
Pollinator and Perennial Garden Landscaping Permit Application (docx)
In Progress:
Now in development are the framework for the program, workshops, mapping and cost-share application process.
Workshops are anticipated to begin this fall.
View the interactive priority area map that will be used for determining eligible funding amounts for cost-share. Enter your address and see if you live in Rusty patched bumble bee territory!
Program Components
The program will have three components as shown in the diagram below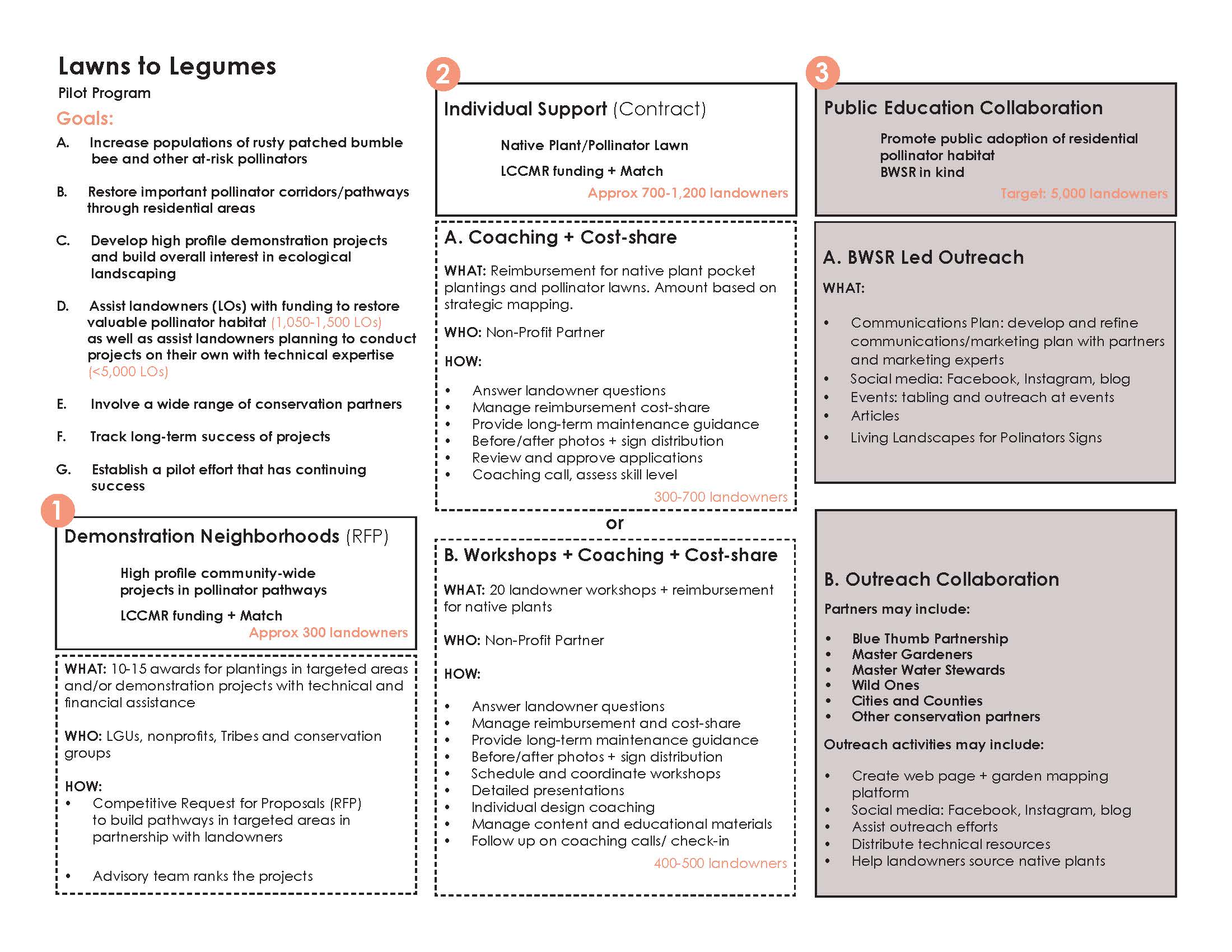 Why Pollinator Beneficial Plantings Are Important:
Many insects such as bees, butterflies, and moths that support our food and ecological systems are at serious risk.

Pollinator beneficial plantings also provide water quality, carbon sequestration and other ecosystem benefits.

Design, installation and management of pollinator plantings provide green industry jobs.

Improved soil health.
Expand garden beds and plant pollinator habitat ie: native flowers.

Remove existing lawn (using sod cutters, etc.) and seed a pollinator lawn seed mix that typically include no-mow fescues and flowers.

Inter-seed flowers into existing lawn and increase mowing height, and decrease mowing frequency

Convert large areas to a prairie vegetation.

Plant your rain-garden with pollinator-beneficial plants.

Incorporate flowering shrubs and trees in the landscape such as chokeberry, dogwood, ninebark, hawthorn, cherry, plum, apple, maple and basswood.

Provide nesting and over-wintering opportunities, see Planting for Pollinators (link below) to learn more.

Eliminate the use of insecticides and fungicides to the extent possible.
BSWR has created a new Planting for Pollinators habitat guide for this program. Other key resources related to this program include:
When Will This Funding be Available?

This project was recently funded by the legislature, and is still in planning stages. The goal is to distribute funds to local conservation partners later this year, who will distribute funds to landowners. Ideally this will lead to projects starting to be installed in Spring or Summer of 2020

---

Who Will be Eligible?

Funding will be available for homeowners and prioritized for areas in Rusty Patched Bumblebee territory and to protect other at-risk species. As the planning process continues, please check this page for updates about project eligibility. 

---

What is a Legume?

Legumes are flowering plants that fix nitrogen in the ground. They include White Dutch Clover, often found in Bee lawn seed mixtures as well as native plants like Wild Lupine, Lead Plant and Purple Prairie Clover.

Catchy name aside, the purpose of this program is to improve pollinator habitat that can involve legumes, but also includes other flowering native plants. Native plants are the best quality sources of nectar and pollen for native Minnesota pollinators like our new state bee: The Rusty Patched Bumblebee as well as Monarch Butterflies.

 

What Insects Will Benefit?

This program is specifically designed to address the needs of the Rusty Patched Bumblebee, a federally listed endangered species. But providing habitat for one pollinator helps most other pollinators as well.

Monarch Butterflies and other bees will benefit from this habitat, as will other animals including birds, amphibians and reptiles whose populations have been declining in recent years.

Another added benefit is that pollinator plantings contribute to cleaner streams, lakes and rivers as plant root systems filter pollutants and runoff before they reach our waterways.

How Can I Help Now?

You don't have to wait to create a pollinator-friendly yard!

Here are some guides to creating habitat:

Planting for Pollinators  BWSR's new guide for residential pollinator habitat

the Xerces Society: Gardens for Pollinators

Metro Blooms: DIY Bee Lawn

US Fish and Wildlife Service: Build a Pollinator Garden in Seven Steps

---

How will the Program work?

The diagram at the top of the page shows the program components. There will be three ways for people to access Lawns to Legumes assistance: Demonstration Neighborhoods coordinated by a municipality, non-profit tribe or conservation group, Individual Assistance in the form of workshops, coaching and/or cost share, or DIY resources available through the Pollinator Toolbox such as planting templates, plant lists and the program guide.

One of the most important goals of this program is to support the long-term maintenance of these projects. Maintaining your project through the years makes consistent and reliable habitat that is more beneficial to pollinators, AND provides all of the additional ecosystem benefits of water quality, habitat for other animals and carbon sequestration. The resources BWSR is developing are intended to help support longer term habitat with guidance about planting, design, maintenance and other important issues related to pollinator plantings.

View a diagram of this process here: